SunTrust Customer Service Number | 24×7 Service at your Fingertips!
Do you have any definitive doubts or questions related to your account in SunTrust and couldn't find your answers? If yes, then your wait is over. Get in touch with SunTrust Bank Customer Service for all your queries and requests. You can access account information, download the latest statements, block stolen or lost credit cards, report a fraudulent case, home loans, business loans and many more with this one-stop SunTrust Customer Support page.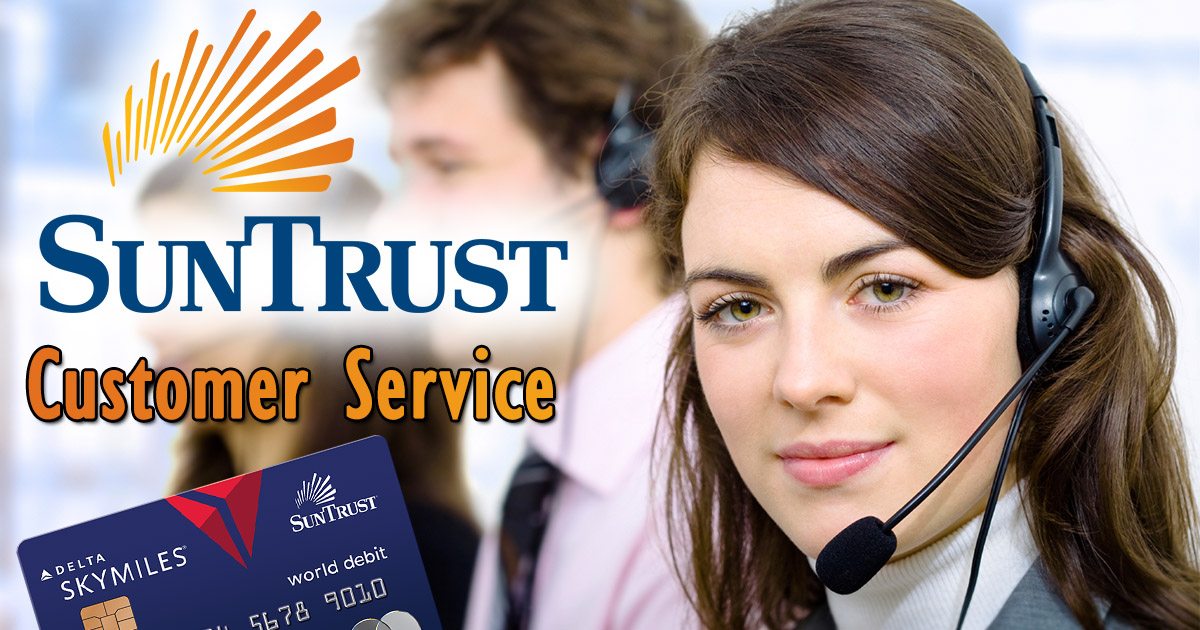 Listed below you will find ratings, reviews, corporate information such as SunTrust address, corporate phone number, their customer service phone numbers, working hours, official website, email address and much more.
SunTrust Banks, Inc.
Headquarter in Atlanta, Georgia, the United States, SunTrust Bank is an American bank holding corporation owned by SunTrust Banks, Inc. It was stabilised 129 years ago in 1891 on September 21 supported by Joel Hurt, John M. Green and 18 more founders together.
The association is well known for being the controller of more than one bank, but its duty is not to engage itself in banking. After getting acquired by BB&T, another bank holding enterprise in December 2019, SunTrust's alliance is to be called Truist Financial Corporation. Anyhow, SunTrust consoles its customers less to worry about their account security. This unification is not going to affect any of the customer's financial deposits and security.
SunTrust Customer Care Numbers
If you have any queries or concerns about SunTrust Bank account logins, card, etc., feel free to contact SunTrust customer service executives by using the respective numbers to your respective questions. Below is a list-wise break-up of the customer care numbers for your concerns and then city-wise list respectively.
SunTrust Phone Number
SunTrust Customer Service Phone Number

Toll-free number, Customer Service Department, U.S.

+1-800-321-1997

The Best toll-free number, Customer Service Department, U.S.

+1-800-786-8787

Private Wealth Management number

+1-866-495-5416

Mortgage Customer Service, Home Loans toll-free number

+1-800-634-7928

Online Banking, PC Banking, Bill Pay, and Mobile Banking

+1-800-382-3232

Fraud Report, Lost or stolen card

+1-800-786-8787

TDD (Telephone Device for the Deaf)

+1-800-854-8965

International Toll- free number

+1-800-7887-2835

Real Estate and Short sale

+1-800-443-1032

Credit Bureau & Disputes

+1-800-596-5407

Small Business Customer Service

+1-800-752-2515

Small Business Commercial Banking

+1-866-476-1460

SunTrust Corporate Number

+1-404-588-7711
Other SunTrust Contact Numbers (Main Cities)
Alabama: +1-256-712-3744

Mississippi: +1-662-470-2877

Arizona: +1-602-381-3700

California: +1-4040-926-5000

New York: +1-800-826-6860

D.C.: +1-202-831-5140

Florida: +1-863-868-1384

Texas: +1-972-770-0509

New Jersey: +1-732-469-2691

Colorado: +1-720-493-3826

Ohio: +1-614-734-8363

Oklahoma: +1-859-259-3330

Oregon: +1-503-471-5770

Georgia: +1-470-429-6200

Pennsylvania: +1-412-261-3030

Illinois: +1-630-241-9218

South Carolina: +1-864-573-7214

Utah: +1-801-363-2991

Maryland: +1-410-774-9048

Virginia: +1-804-782-5689

Michigan: +1-248-205-4230

Washington: +1-804-451-2361

Minnesota: +1-615-667-3267

Wisconsin: +1-414-359-1037
SunTrust Hours
Coming to SunTrust customer service hours, dedicated 24×7 toll-free numbers are made available above to reach the official SunTrust helpline numbers for any complaints and grievances related to SunTrust account, fraud or an unauthorised transaction in your account/credit card.
In case of any emergencies like fraud reporting or card hosting, you reach them 24×7 on +1-800-321-1997 and +1-800-786-8787.
Unfortunately there is no SunTrust customer service chat option, but they are always active on phone calls to which they are ready to help you in any way possible.
What time does SunTrust customer service open?
SunTrust Customer Service is open 24×7 if you have an emergency issue related to your account, card, etc.
SunTrust Corporate Office Address
Sun Trust is a Commercial Lending Specialization bank, state charter and Federal member supervised by the Federal Reserve (FRB) with a core figure of 1159 branches across the United States itself.
Corporate Office Address (U.S.):
SunTrust Bank
303 Peachtree Street, Northeast
Atlanta, GA 30308
SunTrust Official Site
https://www.suntrust.com/ is the ultimate official page of SunTrust you need at your fingertips. Sign in to this official site for experiencing the advanced Online Personal Banking and Online Business Banking.
Take one step at a time over this site to help them grow along with your growth. You can start your career in this particular firm and help them build the next generation.
Access to SunTrust official site to acknowledge never-ending lists of opportunities that are hot and ready to be served to you and your family. Experience the exceptional opportunity here to serve your financial needs while being SunTrust.
SunTrust Email Support
Unfortunately, there is no email address for the SunTrust Bank Customer Support Service. But, for a faster way to get in touch with the bank, you can submit your queries, complaints, or feedback by first signing into SunTrust online banking account where you can send a secure message along with a deposit slip or your name and your account number. This will give you an easy way to contact SunTrust Bank.
How do I Email SunTrust?
Sign in to SunTrust Online Banking account on the official website and send them a secured message and along with it include a deposit slip or your name and account number. Posting any currency through the email is strictly prohibited.
SunTrust Social Media
SunTrust has a genuine relationship with third-parties, such as social networks like Facebook, Instagram, LinkedIn, Twitter, Pinterest, and YouTube.
Nothing to worry about their fenced links with third-party sites for these sites are neither operated by nor affiliated with SunTrust. Their terms and conditions, accessibility standards, and privacy and security policies don't apply to the site because SunTrust understands and values the privacy and security of its customers.
In addition to this, SunTrust reaches its customers and also those who are lying unhelpful from the rest organisations via these sociable platforms. Follow SunTrust with the links provided below to get closer to SunTrust.
SunTrust Bank Reviews
Anonymous, Florida (4.2/5.0)
Holding my savings account with SunTrust for more than six years, I haven't faced any issues regarding anything related to my bank account. There are enough ATMs in my city, which is also one of the reasons I upvoted for this stock. Even if I ever faced any issues, I always received an ample amount of solutions with a smooth response.
Anonymous, MD (4.5/5.0)
Maintenance is too good over here in this bank. I loved the quick response with smooth gestures. I am proud of holding my account at SunTrust Bank.
FAQs
Where is the nearest SunTrust bank?
You can search for the nearest branch by visiting the link- www.suntrust.com/find-us. Also, search your nearest SunTrust Bank by typing "SunTrust near me" directly on your search engine. You will be directed to your current location in your Map (Google Maps) which will help you locate the nearest SunTrust Bank followed by an accurate direction.
Who do I contact about the complaint about SunTrust bank?
Dial SunTrust bank customer service number +1-800-786-8787 for any of your complaints and grievances related to SunTrust.
How to contact corporate SunTrust Bank?
Dial (800) 786-8787 or +1-404-588-7711 if you want to contact the corporate office of SunTrust bank. It 24-hour automated assistance and can help you resolve any fraud-related issues and also if you're going to do online business banking.
Where is the SunTrust headquarters?
SunTrust Bank is headquartered in Atlanta, Georgia, United States.
How do I speak to a human at SunTrust?
If you want to speak to a human at SunTrust, you can call on +1-800-321-1997, a 24/7 customer service support line.
How do I report my SunTrust card lost?
Contact to +1-800-786-8787 and ask the concerned SunTrust bank customer service member to freeze or block your card and also to stop the payments on cheques and ask them to issue them a new card.
How do I contact SunTrust customer number?
You can reach SunTrust directly by dialing +1-800-321-1997 and other SunTrust number is +1-800-786-8787 for all your complaints, concerns and grievances.
Can I close my SunTrust account over the phone?
Yes, you can call SunTrust customer service over the phone and can easily close down your account to which you will receive a confirmation letter and check for your remaining balance in the mail within ten business days.
Conclusion
The information on this page is general and accurate to the facts and knowledge. It is solely for informational purposes. It is designed to help people locate "SunTrust near me" and other vital information related to SunTrust, and is not run by, endorsed or associated with SunTrust Bank in any way. Data is periodically updated from the FDIC's databases.