Wells Fargo Customer Service Numbers, Email & Mailing Address
Customer support services are essential requirements for any company or retail business. When it comes to financial sectors, it becomes all the more important, mainly due to the corrupt practices and underhand methods existing in this particular sector.
Besides, there is one way to gather information about whether your account is safe and to report any suspicious activity in your account and that is to get in touch with the customer grievance cell directly. Wells Fargo provides its customers with the facility to get in touch with them regarding any query and doubt regarding their money or account. Hence, the importance of wells Fargo customer service cannot be stretched enough.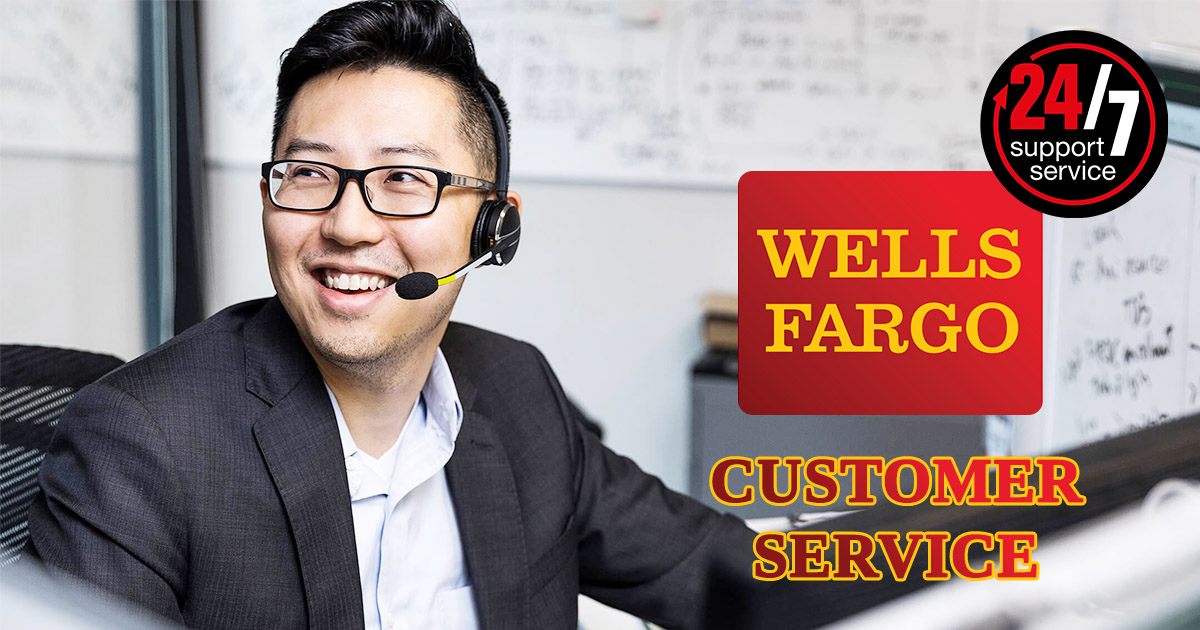 Wells Fargo Support
Wells Fargo and Company is an American financial service with its headquarters in San Francisco. It is the 4th largest bank in the entire United States going by total assets and market capitalization. In the year 2015, it was declared as being the largest bank going by market capitalization, but it soon slipped to the 2nd spot in the year following.
It was mainly due to a scandal where Wells Fargo employees created nearly 2 million fake bank accounts. In the wake of such scandals and seemingly corrupt practices, customers of Wells Fargo must have a legal platform to get in touch with the bank. And therefore, Wells Fargo customer service is there to help remove all doubts and queries of its customers.
Wells Fargo being a bank and an insurance company, offers products and services related to this industry. It provides services such as capital financing, equipment financing and commercial real estate. It also provides international services like financing and credit and trade services. To look for more services provided by them visit their official site
Wells Fargo Customer Service Phone Number
Wells Fargo provides its users with many options to get connected with its staff helpers. Customers facing any issues or any confusion can always dial up their toll-free number and seek professional assistance. Wells Fargo has a different set of numbers for different concerns. These have been listed below.
Primary Wells Fargo Customer Support Numbers
Main Wells Fargo Phone Numbers


General banking

1-800-869-3557

Website

www.wellsfargo.com
Other Wells Fargo Contact Number List
Wells Fargo online: 800-956-4442

Deaf Customers: 1-800-877-4833

Wells Fargo Credit Card customer service: 1-800-642-4720
Wells Fargo Home Mortgage customer service: 1-800-357-6675
If your card or number is stolen or lost, you can call Wells Fargo credit card phone number, 1-800-642-4720 and report them. You will be reimbursed for unauthorized purchases made with your card.
Wells Fargo Customer Service Hours
Wells Fargo's customer support team ensures that its customers do not have to wait for particular hours before they could dial-up and ask for help. For its general inquiry regarding banking questions, customers can dial up the number at any time of the day. You can call Wells Fargo 800 number any time. That is, the Wells Fargo customer service is available 24/7. For the rest of the numbers, they follow a schedule and customers have to make sure they call at that time of the day. For more information, you may visit their official website.
The normal operating Wells Fargo hours are-
9 AM – 5 PM from Monday to Friday and close on Weekends.
Wells Fargo Near Me
Locate your nearest bank and ATM using the official Wells Fargo locator. Just enter your location and click on search. You will get all the closest ATMs and Banks of Wells Fargo. Also, you can search Wells Fargo Customer Care Near Me in the Google Maps and locate the nearest bank and its customer support number. For Wells Fargo dealer services address also, you can search in Maps and it locates all the nearest stores based on your location.
Wells Fargo Corporate Office & Mailing Addresses
Corporate Office
Wells Fargo
420 Montgomery Street
San Francisco, CA 94104
There are a few other mailing addresses which you can use to register any complaint with wells Fargo –
Auto Loans
Wells Fargo Auto
P.O. Box 29704
Phoenix, AZ 85038-9704
Checking and Savings Accounts
Wells Fargo Bank
PO. Box 6995
Portland, OR 97228-6995
Consumer Credit Card Services
Wells Fargo Card Services
P.O. Box 51193
Los Angeles, CA 90051-5493
Home Equity
Wells Fargo Home Equity
P.O. Box 10335
Des Moines, IA 50306-0335
Home Mortgage
Wells Fargo Home Mortgage
P.O. Box 10335
Des Moines, IA 50306-0335
Online Customer Service Wells Fargo
Wells Fargo Customer Service
P.O. Box 560948
Charlotte, NC 28256
Wells Fargo Address for Student Loans
Wells Fargo Education Financial Services
P.O. Box 5185
Sioux Falls, SD 57117-5185
Wells Fargo Official Site
Official Wells Fargo website is www.wellsfargo.com. Customers may visit this site to enquire about any issue they are facing or learning more about the products and services offered by Wells Fargo. Just like any other official page, Wells Fargo's official site has got all its contact details and mail support options.
Wells Fargo Email Support
reportphish@wellsfargo.com– this is the email address provided by Wells Fargo in case its customers find any suspicious activity on their email accounts registered with them. You can also email your queries and complaints at www.wellsfargo.com/help/secure-email. Coming to Wells Fargo chat, there is no such facility as of now in its official portal. Instead of Wells Fargo live chat you can call them or write a letter to the mentioned mailing address or make use of the online support pages given below.
Wells Fargo Social Media
Wells Fargo has listed its social media handles on its website so that customers have another option to get in touch with them. With these customers may lay in their complaints at their twitter page or visit their Facebook page to know about any updates and changes in policies made by them.
Wells Fargo Customer Service Review
If you visit the official customer support page of Wells Fargo, you will find many options before you so that you can make use of to get in touch with their customer support team and get answers to all your questions. Wells Fargo has always been responsible and upright when dealing with clients who face issues with their services and tries to do their best to resolve their problems.
It also provides a section where it answers some of the most commonly raised questions by its customers. So for those who face troubles of any sort, it would always be better first to visit their official site where most of their questions would get answers. Considering this, Wells Fargo has done an excellent job on its online customer help page and the information it carries.
Wells Fargo is counted among the big four banks of the United States. It has 13000 ATMs and 8050 bank branches. It is hailed as one of the best banks currently operating in the United States and has been globally catering to 70 million customers in about 35 countries. With such a vast customer base, Wells Fargo's customer services need to be on top of its game.
FAQs
What time does Wells Fargo close?
Wells Fargo's operating hour closes at 5 pm while their customer services remain open 24/7. 
What time does Wells Fargo open?
Wells Fargo usually opens around 9 am.
Who owns Wells Fargo?
Berkshire Hathaway owns Wells Fargo.
How to contact Wells Fargo by email?
reportphish@wellsfargo.com is the email address to contact Wells Fargo, which can be used for reporting any suspicious activity on your account. www.wellsfargo.com/help/secure-email can be approached for any queries. 
How do I contact Wells Fargo's corporate office?
To contact wells Fargo corporate office, you may mail them on the address- Wells Fargo, 420 Montgomery Street, San Francisco, CA 94104. You can also call 1-800-869-3557 to contact corporate office.
How to contact Wells Fargo CEO?
The contact details of Wells Fargo CEO, Charles W. Scharf are not disclosed. You can write a letter to the corporate office addressing CEO.
Can I open a Wells Fargo account online?
Yes, you can open a Wells Fargo account online.
How to chat online with Wells Fargo?
Currently, there is no facility to live chat with a Wells Fargo representative.
Does Wells Fargo have 24/7 customer service?
Yes, Wells Fargo customer service is available for 24 hours and seven days a week. Wells Fargo customer service number 24/7 is 1 (800) 869-3557.
Where is Wells Fargo headquarters located?
Wells Fargo headquarters is located in San Francisco, CA.
Bottom Lines
In the year 2014, Wells Fargo was named as the most valuable and profitable bank in the world in the rankings by the banker and brand finance study. There were 500 other banks and wells Fargo outshone them to emerge on the top. In the year 2015, the company was listed as the 22nd most admired and the 7th most trusted and respected company in the world.
Wells Fargo has been on top of several other rankings and studies and It continues to dominate the banking, financing and insurance industry single-handedly at large. Wells Fargo has around 12 museums in Charlotte, North Carolina; Denver, Colorado; Des Moines, Iowa; Los Angeles, California and other places. Wells Fargo offers various services for its customers through which they can operate their accounts efficiently and without much hassle. Its commitment towards its customers has made it the most productive company in the financial sector.