IRS Customer Service Numbers – Email & Mailing Address
The IRS is the revenue service of the government of the United States. Collecting taxes and providing assistance to taxpayers in solving their faulty tax filings are the essential functions that it performs. Filing one's tax return is nothing short of a nightmare for some of us. It can be a stressful time for an individual to decide if s/he should take the help of an expert or employ an online program to calculate taxes due. It is during such an intimidating time that the IRS serves as a guiding hand to those who are not tax experts.IRS is the savior we all need when dealing with the overwhelming task of calculating our taxes or calculating refunds.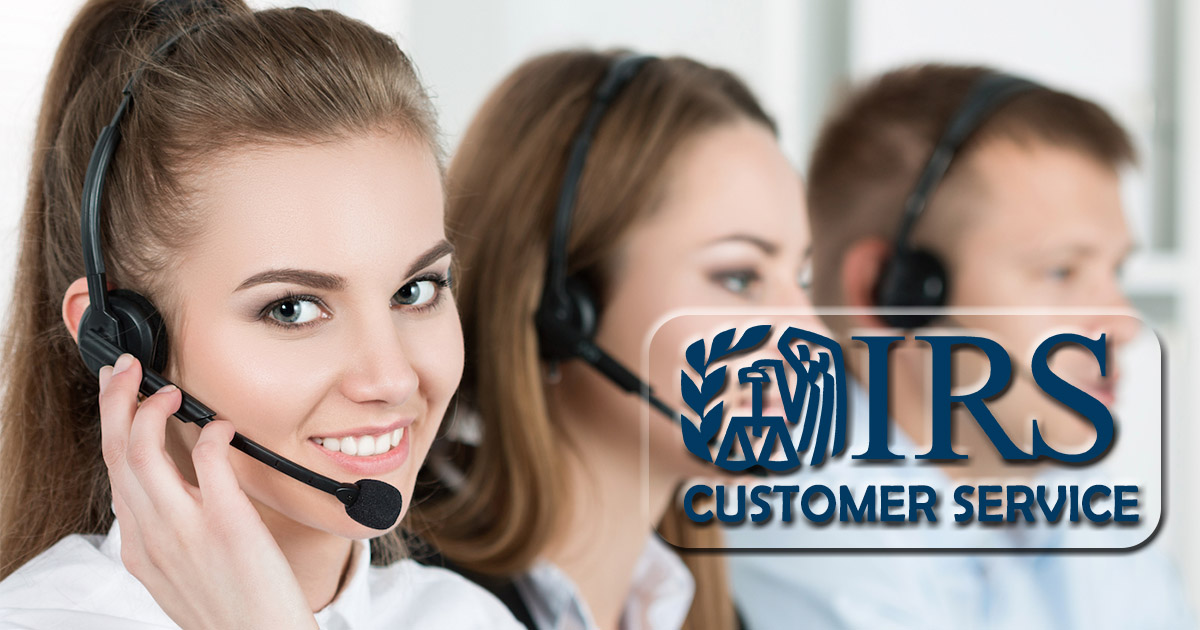 Individuals might face a set of daunting questions regarding any tax-related issue, be it the completion of a tax return or checking the tax refund status. Taxpayers facing any problem can contact the IRS, where the staff members are present to extend help and support to make tax filing a hassle-free affair. The necessity of contacting the IRS customer service number arises when taxpayers are bombarded with several issues such as not knowing the balance due on a tax account, or when they want confirmation on the payment on an individual tax return, and while dealing with several federal tax questions.
IRS Services Offered
The IRS offers a set of services in taxpayers' interest. A more comprehensive list can be found on the IRS official site – https://www.irs.gov/help/services-provided-four.
A few of the services are listed below.
Help with tax account information changes and payments.

Assistance with questions about tax law changes.

Basic tax law assistance

Check, money order, or cash payment acceptance.

Payment arrangements

Procedural inquiries

Solutions to tax issues

Tax forms
IRS Customer Service Number
How to contact IRS? Contacting the IRS using the phone numbers is the easiest and the quickest way to seek help. It is the best option available in case one can't reach the IRS online. The IRS faces a high call volume rate at times, especially during Mondays. Hence, it is better to call them at the specific times provided. The best IRS phone hours during April is to call before 10:00 a.m.
Main IRS Contact Numbers List
IRS Phone Numbers
Customer Account Services phone number for IRS
(877) 829-5500
Technical Services Operation (TSO)
866-455-7438 (Toll-free)
Other IRS Customer Service Phone Numbers
Technical Services Operation (TSO):

304-263-8700 (International)
304-579-4827 (Telecommunications Device for the Deaf (TDD))

IRS refund status phone number: 1-800-829-1954
General IRS assistance: 1-800-829-1040
IRS Customer Service Hours
IRS hours for customer support are, Monday to Friday, from 7:00 a.m. to 7:00 p.m. local time. Some support numbers like 1-800-829-1954 is available 24/7.
IRS Corporate Office Address
IRS address of corporate office given below. You can mail your complaints or any issues to this address as well.
IRS mailing address:
Internal Revenue Service Headquarters Building,
1111 Constitution Avenue Northwest,
Washington, District of Columbia, DC
IRS Office Near Me
The IRS has a network of local offices or taxpayer assistance centers, where individuals can visit and seek answers and assistance to their tax-related issues. You can find these centers by visiting the IRS website and searching for a nearby local office.
Store Locator: apps.irs.gov/app/officeLocator/index.jsp.
IRS Official Website/Contact Us Page
https://www.irs.gov/ is the official webpage which is useful in getting any kind of information and their contact details.
IRS Email Support
www.usaa.com/help/contact– This link will open the page where questions can be asked through email. However, it must be kept in mind that IRS customer service takes at least 48 hours to respond to the sent mail.
Contact IRS through Social Media
The IRS uses social media tools to keep taxpayers aware of any slight change in tax policies and decisions of the government. In turn, these pages open another medium for taxpayers to connect with the IRS customer services and get their doubts resolved.
IRS Review
IRS customer service contact assistance comes handy during those dreadful times when a taxpayer baffled by tax procedures and queries. The IRS seeks to answer as many customers' calls as they can and help them get out of their situation. However, the IRS has come under the critical radar of several customers who complained that they had to wait for a long time before their call was answered.
IRS itself mentions in its official website that it experiences heavy traffic call volumes at times. A customer gave the IRS a positive review and said- 'Their services are completely outstanding. The customer service at IRS is completely reliable, understandable and knowledgeable'. Yet another customer says- 'IRS has absolutely wasted customer service ever. They made me wait for more than 4 hrs and I never got my query resolved'.
FAQs
How does the IRS contact you?
The IRS does not contact anyone through phone calls or emails. In case you receive a call from someone claiming to be from the IRS, it could be a fraud call and you should immediately call IRS customer service to confirm. 
How do I contact the IRS customer service?
You can contact IRS customer service through a number of means. Call their customer service phone number 866-455-7438 for any query or email them at phishing@irs.gov regarding any phishing mails.
What is the IRS phone number?
The IRS contact phone number is 1-800-829-1040. 
How do I get a person on the phone at the IRS?
The number is 800-829-1040 which is available from 7 am to 7 pm from Monday to Friday. The automated system will ask you questions and pressing the required number keys, you will get to talk to a person from the IRS customer service team.
Where is the IRS headquarters?
The IRS headquarters is at Washington, District of Columbia, DC. 
How to email the IRS?
The IRS can be approached for any suspicious mails through email at phishing@irs.gov. 
What are the hours for the IRS customer service?
IRS phone assistance is available from Monday to Friday- 7 am to 7 pm.
How to reach a customer service representative?
IRS customer service representatives can be reached by dialing their phone number which is -800-829-1040. Other ways of contacting an IRS representative is through an online chat or email.
Is 18008290922 an IRS number?
Yes, it is the IRS Social Security number.
Is the IRS open 24/7?
The number – 1-800-829-1040 works from 7 am to 7 pm Monday to Friday.
How do I contact the IRS about my tax?
Other than the toll-free number provided by the IRS, there is a set of other numbers that can be used for answering specific queries.
1. 1-800-829-1040 – for personal income tax queries
2. 1-877-777-4778 – taxpayer advocate's number for any type of tax-related queries
How can I live chat with the IRS?
You can live chat with an IRS representative by clicking on this link – www.irs.gov/help/navigate-irsgov.  
Final Verdict
The IRS has the support and strength of the entire United States behind it, every individual has to deal with it at least once a year. Hence, in order to make every individual understand tax-related laws and procedures, it provides its customer service help desk which can be contacted using a number of ways. The IRS isn't something to be feared. IRS has its helping personnel who are there to assist you in finding the answers to your queries.