Forever 21 Customer Support Numbers | Address, Email & Social Media
Have any queries or complaints on Forever 21 Products? Below are Forever 21 Customer Service contact details. You can speak with their call centre representatives using the phone number, email, address and website.
Forever 21 Customer Service
Forever 21 is an American fast fashion retailer. It was founded by Do Won Chang and Jin Sook Chang in 1984. The company has headquarters at Los Angeles, California. It is known for its trendy offerings & low pricing. The company began as the store called Fashion 21 & grown into clothing lines.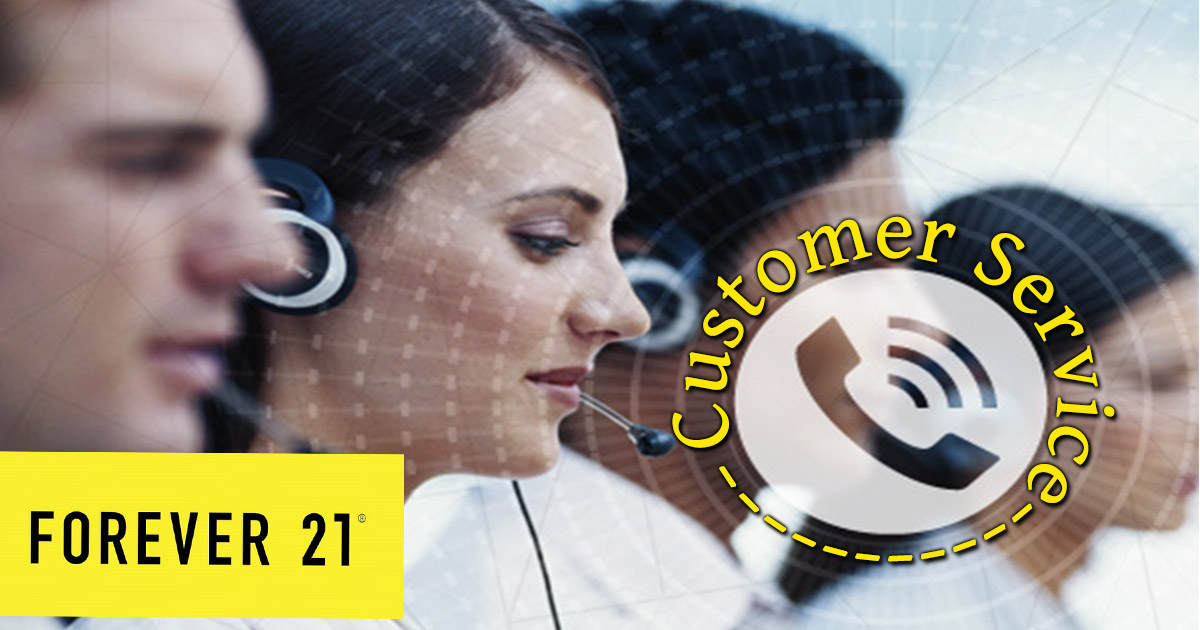 Forever 21 sells beauty products, home goods, accessories and clothing for men, women & girls. It has been involved in various controversies, ranging from labour practice issues to copyright infringement accusations to religion. The clothing is available to all ages from toddler to adult.
Forever 21 Customer Care Numbers
As we know that Forever 21 is a worldwide company. So the contact details of Forever 21 Customer Support Number for all the countries are as follows. To know the order status, about complaints, issues with the payment process can call Forever 21 Customer Service Numbers 24/7.
Forever 21 Contact Phone Numbers
| | |
| --- | --- |
| US & Canadian Shoppers Toll Free Number | 1-888-494-3837 |
| International Shoppers | 1-213-741-8257 |
Forever 21 Toll Free Numbers
Mexico: 01-800-611-0179
Europe: 31 76 548 0888
United Kingdom: 0808 168 0541
Korea: 1644-0210
Fax: 02-2135-2122
Australia: 1800-953-142
New Zealand: 0800-445-571
Hong Kong: 800-906-719
Singapore: 800-321-1199
Philippines: 1800-132-20063
Malaysia: 1800-808-216
Indonesia: 007-803-321-8401
Taiwan: 00-801-491-180
Korea: 0030-8321-0013
Japan: 0120-936-595
Hours
Forever 21 Customer Support Hours of Operation are different for phone support and chat support. Customers must see the working hours and call to the representatives within the time.
Phone Support
From Monday to Friday: 5 am – 6 pm
Saturday: 7 am – 5 pm
Sunday: 8 am – 5 pm
Chat Support
From Monday to Friday: 7 am – 8 pm
Saturday: 7 am – 5 pm
Sunday: 8 am – 5 pm
Address
Forever 21 Corporate Office Address details are here. Shoppers can write their suggestions, messages or make complaints to the customer support team through mailing address.
Forever 21
2001 S. Alameda
St.Los Angeles, CA90058
Website
Customers who are willing to know the details of home goods, clothes, accessories & beauty products can go to the official site: www.forever21.com. There you can also check trendy clothes or contact information for different countries and issues.
Social Networking Sites
Shoppers can contact the Forever 21 Customer Support Phone Number through social media. At the social media pages of Forever 21, you can see the trendy clothes for men, women. One can also obtain the contact details at the social media pages.
Facebook: www.facebook.com/Forever21EU/
Instagram: www.instagram.com/forever21eu/
Pinterest: www.pinterest.com/forever21/
Youtube: www.youtube.com/user/forever21inc
Twitter: twitter.com/forever21
Forever 21 Customer Service Email
Shoppers are suggested to write suggestions, feedbacks, issues to the Forever 21 Customer Care Email Id. Customers can also know the order status, payment methods & cancel/ return the item at f21globalstore-en@forever21inc.com Forever 21 Contact Us Page.
FAQs
What is the Phone Number for Forever 21?
Customers can call to Forever 21 Number 1-888-494-3837 to resolve issues/ get out from the payment problems.
What Customer Service Does Forever 21 Have?
You are allowed to communicate with Forever 21 Customer Service via Email, Social Networking sites, Address, Toll Free Contact Numbers.
What are the Forever 21 Customer Support Hours?
Forever 21 Customer Support Hours of Operation for all the days are here. For Monday to Friday, the services are available from 5 Am to 6 Pm. But on Saturdays, the timings are from 7 Am to 5 Pm, during Sundays, from 8A Am – 5 Pm.
Conclusion
I thought that the above included Forever 21 Customer Care Phone Numbers are helpful for the shoppers to clarify their doubts. You can keep in touch with US Customer Care by frequently visiting our page www.uscustomercare.com for more information on the contact details.