Home Depot Customer Support | Provides you with the Best Assistance!
Home Depot customer service plays a role of immense necessity in helping people find all the information regarding the help and support provided by the company towards its customers. It is the largest retailer known for providing home improvement products in the United States of America.
Home Depot
Home Depot helps in supplying the tools, construction materials and services in retailing prices that contribute towards the home improvement. With as huge revenue as 10.820 crores USD as per the year 2018. This company was founded by Arthur Blank, Kenneth Langone, Bernard Marcus, Pat Farrah, and Ron Brill on January 1st, 1978. The present CEO of the company is Craig Menear, who has been serving since November 2014. The headquarters of Home Depot Inc. is located at the Atlanta store support centre in the unincorporated Cobb County, Georgia of USA.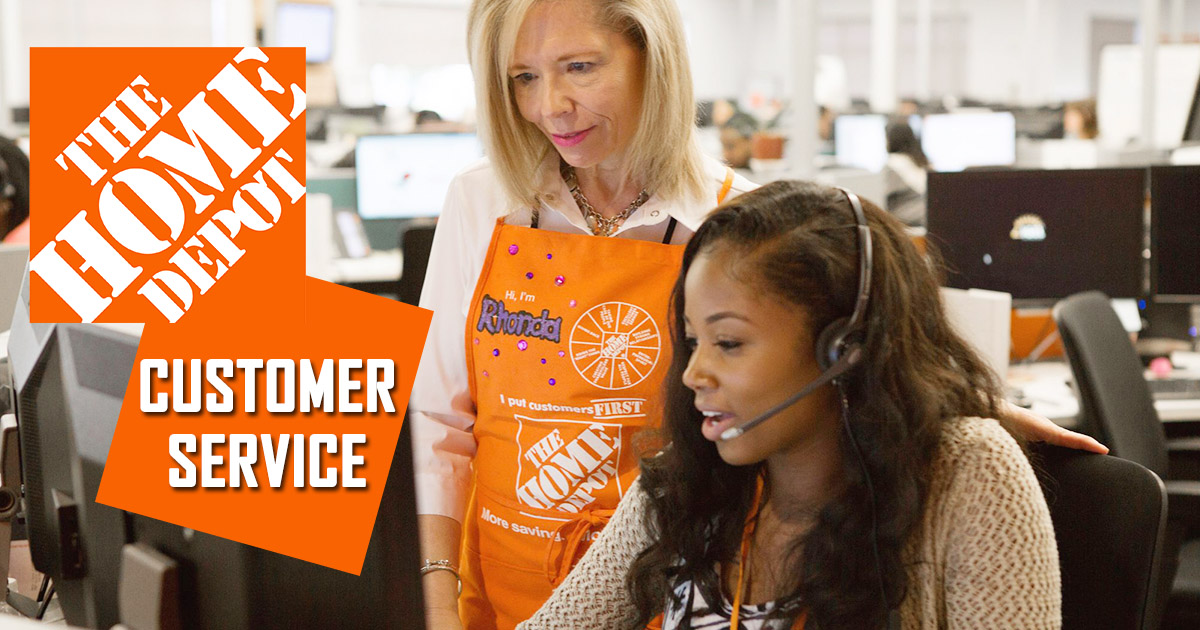 Home Depot Customer Care
This section provides a universal telephonic solution irrespective of your place or background. To contact Home Depot through phone and talk to a live person regarding your issue you can contact the below-mentioned number. This number is available 24×7 to resolve your concerns.
Main Home Depot Phone Number List
| | |
| --- | --- |
| Service | Home Depot Contact Number |
| Customer Support | 1-800-HOME-DEPOT (466-3337) |
| Website | www.homedepot.com |
Other Home Depot Customer Service Number List
Customers are the ultimate driving factor for us and it is our prime responsibility that we serve them at our best! This leads us towards providing the customers, telephone numbers for their convenience. Below is a table which mentions all the Home Depot customer service phone number list specific to each purpose.
Consumer Credit Card Account (Home Depot credit card customer service number)- 1-800-677-0232

Commercial Revolving Charge Card- 1-800-685-6691

Commercial Credit Card Account- 1-800-395-7363

Homedepot.com Major Appliances Support- 1-877-946-9843

Online Order Support (Home Depot online customer service)- 1-800-430-3376
Home Depot Customer Service Hours
The Home Depot hours run from Monday – Friday: 8 a.m. – 8 p.m, Saturday: 9 a.m. – 6 p.m and Sunday: 12 p.m. – 6 p.m. The operating hours however, run from 9 a.m. – 6 p.m.
Home Depot Near Me
You can find the nearest Home Depot and its exact timings to your vicinity using their official store locator provided in the website; www.homedepot.com/l/.
Home Depot Website
There is a full-fledged working website that aids in providing all the help to the needful. The link to that site is www.homedepot.com which would navigate you towards the content you require.
Home Depot Support Site
As far as support or help is required, the website contains direct points or hyperlinks that navigate the user to the respective sections which are dedicated to providing solutions to the issues of the user. https://www.homedepot.com/c/customer_service is the solution that redirects you directly to the Help and FAQ section of the website of the company where you can find all kinds of solutions to your issues.
Home Depot Address
The headquarters of Home Depot support center is at 2455 Paces Ferry Rd SE, Atlanta, GA 30339, United States and its corporate office at Frisco, TX 75035, United States.
Headquarters/Corporate office Address
This section helps you to locate the corporate address of the Home Depot Inc by providing you with the corporate office address of the one present in the headquarter of Atlanta, USA.
Home Depot Corporate Office,
Frisco,
TX 75035, United States.
Home Depot Customer Service Email & Social Media
Home Depot has a customer email support in their website that will redirect you to the ID you can address it to. If you can't reach the phone number for Home Depot, you can email your complaints to the below mail id.
Email ID- Customer_Care@homedepot.com
Social Media Links
Social media being an essential platform of communication in recent times, we have jotted down here all the links of the social media accounts where you can know about the company and its motives descriptively.
FAQs
Does Home Depot have a call centre?
Yes, Home Depot does have a call center that you can approach at 1-800-HOME-DEPOT (466-3337).
Where is Home Depot customer support?
The Home Depot customer support can be availed by navigating to the top right corner Help section of the home page. Other than that, we have mentioned below a link through which you can redirect yourself to the help or support section, https://www.homedepot.com/c/customer_service. The customer support office is however located in Atlanta, Georgia, United States.
How to contact Home Depot corporate?
Home Depot corporate can be contacted at their office in Frisco, TX 75035, United States. You can however call their customer service at 1-800-466-3337 for any further queries.
What is the Home Depot phone number?
Home Depot as per its customer support provisions has made available a number that works 24*7 for their convenience on the number 18004663337. Apart from this number, there are other numbers dedicated to solving the problems of store finding, supplier recalls etc.
How to email Home Depot headquarters?
The Home Depot does provide an email address for the customers to approach and you can email your query at Customer_Care@homedepot.com.
Where is Home Depot headquarters?
The headquarters of Home Depot Inc. is located at the Atlanta store support centre in the unincorporated Cobb County, Georgia of USA.
Final Verdict
Home Depot stands as a renowned supplier division for tools and construction materials utilized in home improvement and fresh constructions. Its wide marketing has increased its number of customers, making the accessibility of customer services mandatory. Now, the Home Depot Customer Service can be accessed through official phone numbers provided, Email addresses, websites and social media apps.