Bradford Exchange Customer Service Numbers | Email & Support Hours
Do you have difficulties or issues with Bradford Exchange Gift Cards? Then check out Bradford Exchange customer support telephone number. People can know order status or clear doubts with Bradford Exchange customer service contact phone number. You may also choose Email, Address or website to file a complaint.
Bradford Exchange Support
About Bradford Exchange: It is a producer and marketer of collectible goods, sports, memorabilia, jewelry, and apparel. Bradford group was founded in 1973. The founder of Bradford Gallery of Collector's Plates is J. Roderick MacArthur. The company sells its products via direct mail, website, and media advertising. The headquarters of the Bradford group of companies is at Niles, Illinois.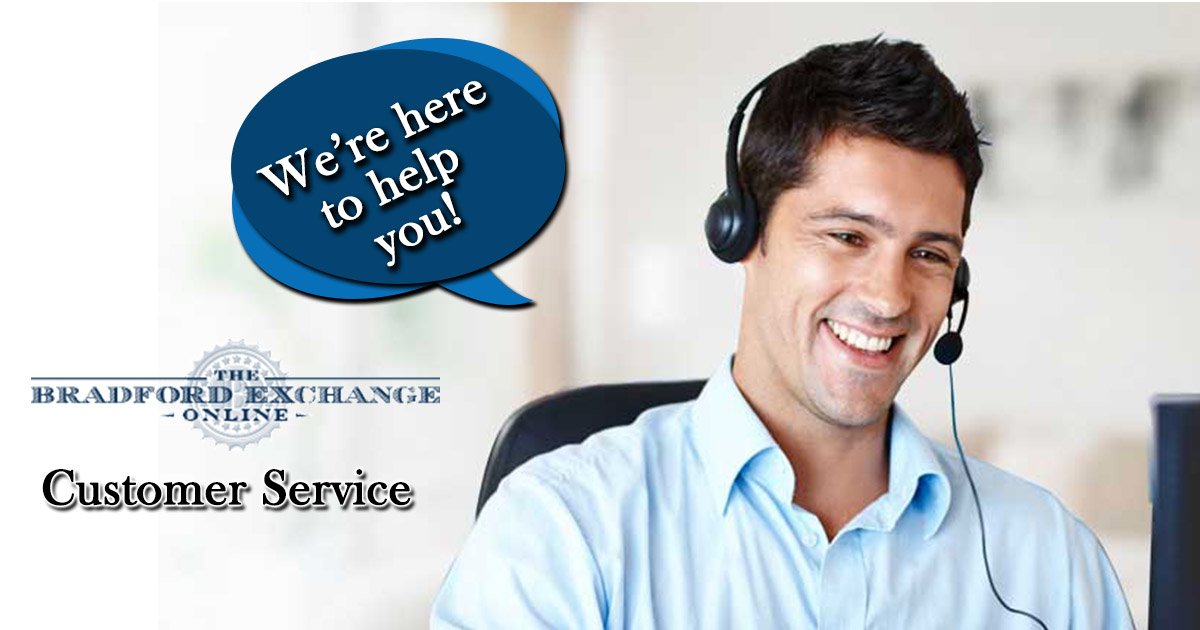 Bradford Exchange group created its first five live price quotation market in 1983 but increasingly turned to create new lines of collectables. You can shop for NFL gifts, jewelry, personalized gifts using Bradford Exchange. Bradford Group of companies includes Ashton Drake Galleries, Bradford Editions, Hamilton Collection, Bradford Exchange and Hawthorne Village.
Bradford Exchange Customer Service Phone Numbers
How do I call Bradford Exchange? Customers can speak with Bradford Exchange customer service using the below phone number. Check the Bradford Exchange customer support phone numbers along with hours of operation to find the best solutions. People can resolve their issues regarding orders or others by using below Bradford Exchange telephone numbers.
Bradford Exchange Phone Number
Bradford Exchange Contact Info
Toll Free Number
1-866-503-9057
Change or Cancel order
0333 003 1532
Bradford Exchange Website
www.bradfordexchange.com
Bradford Exchange Customer Service Hours
Bradford Exchange customer support hours details are included here. Customers who are willing to contact them should know Bradford Exchange business hours and the availability of customer support. You can contact customer care from Monday to Friday in between 7:00 AM – 6:00 PM CT excluding major holidays.
Bradford Exchange Mailing Address
Users can write their complaints/ tell about the issues facing by Bradford Exchange orders to the below address. You can send your letters, suggestions to the Bradford Exchange corporate office Address for an immediate response.
The Bradford Exchange Address:
9333 N Milwaukee Ave,
Niles, IL 60714, USA
Bradford Exchange Contact Number: 1-866-503-9057
If you want make any complaints, you can send the written mail to Bradford Exchange complaints department at,
Bradford Exchange, 2nd Floor,
Churchill House, 47 Regent Road,
Hanley, Stoke-On-Trent ST1 3JJ
Bradford Exchange Customer Service Official Site
Bradford Exchange Official Website is www.bradfordexchange.com. People can shop for gifts for any type of occasion. You can shop by the department like Jewelry, sports, special occasions at the official page. Place the order and track your order with id. By using official site, people can also find the answers for their simple questions.
Bradford Exchange Email Address
If you are unable to call, you can use email address for Bradford Exchange customer support for easy reach. Just mention your queries or issues and email Bradford Exchange at customers@brad-ex.co.uk. You can also go to Bradford Contact Page www.bradfordexchange.com/service_contact-us.html to leave suggestions, feedback.
Bradford Exchange Social Media Pages
Bradford Exchange Social Networking Sites details are available here. Customers who have ordered a gift from Bradford Exchange official page need to keep in touch with the company. People might use these social media sites to know the new products introduced at the company. You can also resolve your problems by chatting with the technicians with a social network.
Facebook: www.facebook.com/BradfordExchange/
Pinterest: www.pinterest.com/bradfordex/
Instagram: www.instagram.com/bradfordexchange/
Twitter: twitter.com/bradfordex
FAQs
How do I contact Bradford Exchange Customer Service?
The contact number for Bradford Exchange is 1-866-503-9057. Users can call Bradford Exchange customer care centre in the working hours to clarify doubts.
What is Bradford Exchange Hours Of Operation?
The hours for Bradford Exchange customer support are from 7 AM to 6 PM on Monday through Friday, Central Time. Bradford customer care centre does not open on Saturday, Sunday and holidays.
How do I cancel an order on Bradford Exchange?
Customers can check the Bradford Exchange delivery address details, remove items from the order, change or cancel the order by the contacting customer support team. For any advice call Bradford Exchange cancel order customer service on 0333 003 1532 or drop an email at customers@brad-ex.co.uk.
Verdict
We hope that the data provided about Bradford Exchange customer Support are useful for you. By knowing contact details, people can speak with the Bradford customer care centre crew and resolve the issue. You may keep in touch with our page www.uscustomercare.com to get the telephone numbers of similar companies.