Spirit Airlines Customer Services, Contact Number, Email, Official Website
Spirit Airlines, the ultra low fare airline for American, has gained considerable popularity over the past few years due to its budget-friendly travel plans and pleasant customer services, making it the 7th largest airline in the United States.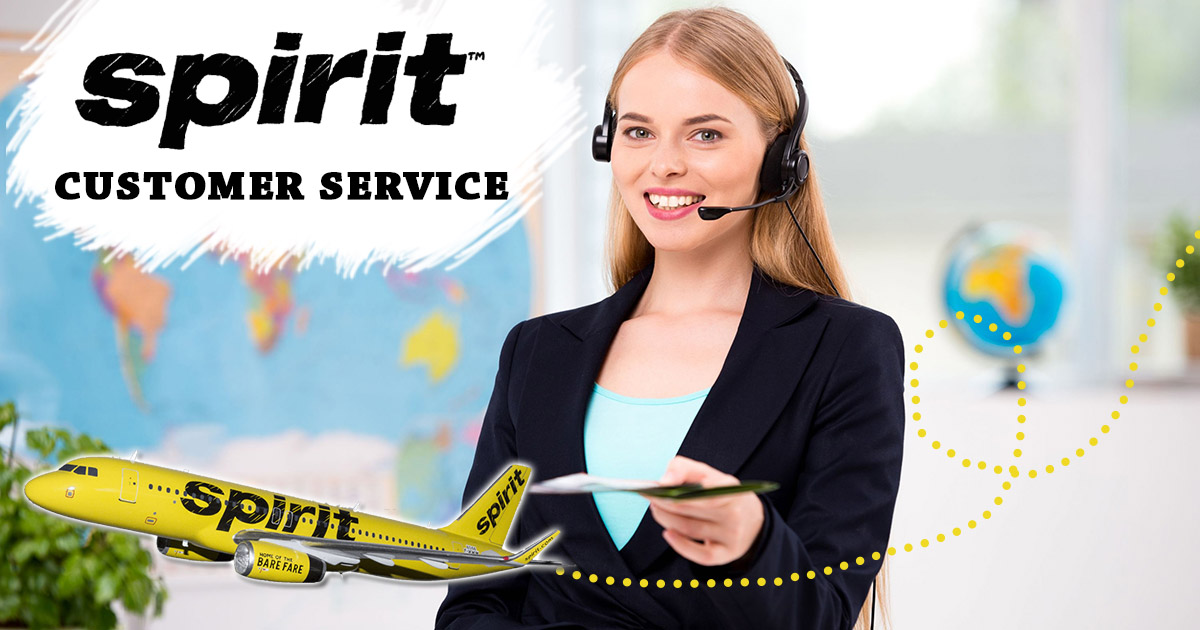 The Spirit Airlines provide excellent services apart from low fare carriers at its customer fingertips such as online booking of tickets and check-in, baggage services, travel information, different membership, and attractive packages through customer service support and company's email id. A great deal of information can be obtained through the company's official website and contact number for any queries and help.
Spirit Airlines Customer Service
The ultra-low-cost airline, Spirit Airlines, is headquartered in Miramar, Florida, in the Miami area. The airline operates throughout the United States, Caribbean, and Latin America with seven operating bases and regional offices to provide customer services throughout the U.S., Caribbean, and Latin America. The various products and services offered by Spirit Airlines include.
Online and offline ticket booking

Flight status

Check-in details

Profitable memberships

$9 fare club

Spirit 101
The ultra low fare airline, Spirit Airline, along with its products, provides excellent and easy customer services. Any queries and issues of the customer can be solved easily by contacting the company through phone or email. If you like to change or cancel the reservation, want other details you can visit the Spirit Airline website Spirit.com or can WhatsApp and email the company for the issue which can't be resolved over the website and can talk with the expert in the Guest Relation Department.
Spirit Airlines Contact Number
The best and cheapest way to know about Spirit Airlines is through the Spirit Airline website. For personalized details and other queries such as flight booking or cancellation refund, different packages, baggage claims, and other deals, customers can contact Spirit Airlines through their contact number as given below.
Spirit Airlines Customer Care
Phone

801-401-2222

Text at this number

48763

Whatsapp directly "hello" at

801-401-2222

For hearing impaired

for TTY/TTD

711

Spirit vacations

954-698-0125
Other Spirit Airlines Phone Number
Caribbean:
Haiti– 011-509-2940-4422
Central America:
Guatemala– 502-2292-0828/ 502-2368-1695
Whatsapp- 31864865
Quetzaltenango (Xela): 77254500 and 57802259
Whatsapp- 31349123
Honduras– (504) 2544-0300
Whatsapp– (504) 9452-0238/ (504) 9452-0239
Tegucigalpa– (504) 2544-0300
Whatsapp- (504) 9472-8517
El Salvador– +503 2534-8228
Whatsapp- +503 7166-9738
Nicaragua– 505-227-81149
Costa Rica– +506 4032-9449
Whatsapp- +506 7201-9465
SOUTH AMERICA:
Colombia– 574485158/ 572505152
Armenia– 57-6749-7244
Whatsapp- +57-310-452-2527
Cartagena– 55-6741359
Bogota– 571-2490688
Ecuador– 5934 371-0897
Peru– +51946288073
Spirit Airline Customer Service Hours
The different offices of Spirit Airlines work at a different time based on their respective country time zone. The United States, Canada, Puerto Rico, and US Virgin Islands guest services work 24 hours a day and seven days a week. For any query, you can contact the office anytime you want. The different working hours for different officers of Spirit Airlines are as follows:
Spirit vacations:
Monday – Friday 8:00 am – 10:00 pm EST
Saturday – Sunday 9:00 am-5:30 pm EST
Haiti:
Monday-Friday: 8:30 a.m. – 3:30 p.m.
Guatemala City – NEW VISION SOLUTIONS S.A.
Monday – Friday: 9:00 a.m. – 6:00 p.m.
Saturdays: 9:00 a.m. – 12:00 p.m.
Quetzaltenango (Xela) – NEW VISION SOLUTIONS S.A.
Monday – Saturdays: 9:00 a.m. – 7:00 p.m.
Sunday: 9:00 a.m. – 3:00 p.m.
Honduras:
Monday – Friday: 8:00 a.m. – 5:00 p.m.
Saturday: 8:00 a.m. – 12:00 p.m.
Tegucigalpa :
Monday – Friday: 8:00 a.m. – 5:00 p.m.
Saturday: 8:00 a.m. – 12:00 p.m.
El Salvador:
Monday – Friday: 8:00 a.m. to 5:00 p.m.
Nicaragua:
Monday – Friday: 8:00 a.m. – 5:30 p.m.
Saturday: 8:00 a.m. – 12:30 p.m.
Costa Rica
Monday – Friday: 8:00 a.m. to 5:00 p.m.
Colombia:
Monday – Friday: 9:00 a.m. – 5:00 p.m.
Saturday: 9:00 a.m. – 1:00 p.m. (Local time)
Closed: Sundays & Holidays
Armenia:
Monday – Friday: 9:00 a.m. – 6:00 p.m.
Cartagena:
Monday – Friday
8:00 a.m. – 12:00 p.m.
2:00 p.m. – 6:00 p.m.
Bogota:
Monday – Friday
8:30 a.m. – 12:30 p.m.
2:00 p.m. – 6:00 p.m.
Ecuador:
Monday – Friday: 9:00 a.m. – 6:00 p.m.
Peru:
Monday – Friday: 9:00 a.m. – 6:00 p.m.
Spirit Airlines Headquarters
You can find the Spirit Airlines office given below for different regions and operating bases. Visit the office or write a letter for complaint or any other requirements to the given address and you will receive a response from the guest relations department as per your need. You can address the Spirit Airline head office directly at
2800executive Way,
Miramar, Florida 33025, U.S.A.
Regional Spirit Airlines Corporate Office Addresses
Guatemala: 4ta. Av. 14-21 Zona 10 Guatemala, Ciudad

Quetzaltenango (Xelo): 19 Av 2-40 Zona 3 Quetzaltenango, Utz Ulew Mall – Kiosko 33

Honduras: Area Comercial, Local #9, Copantl-Hotel & Convention Center, San Pedro Sula, Honduras

El Salvador: Centro Comercial Balam Quitze local 12, Paseo General Escalon. San Salvador ES

Tegucigalpa: Spirit Counter, Lobby, Hotel Clarion, Tegucigalpa, Honduras

Costa Rica: Calle 38, entre Avenida 3-5 casa 392. 175 metros Norte, Centro Colon. San Jose, Costa Rica

Colombia: Carrera 77 # 36 – 4 2do Parque de Laureles, Local 102, Medellín, Colombia

Armenia: Av. Bolivar 18N 133 Local 7 – Torres de Altamira

Cartagena: Calle 30 No.19-64 Piso 2, Cartagena, Colombia

Bogota: Calle 67 No.6-60 Oficina 404, Bogota, Colombia

Ecuador: Av. Las Monjas, CC Aventura Plaza, Local 46, Of. 1, Guayaquil, Ecuador

Peru: Av. Jorge Chavez 631, Piso 7, Lima, Perú
Spirit Airlines Official Site
Spirit Airlines allows its customers every service at their fingertips, making the communication more manageable and effective through its official website www.spirit.com. People can go through the various offers and packages that the company provides, check flight status, book tickets and there is much more one can explore. For any query, help or support you can visit the Spirit Airlines contact us page and can reach them directly with a few simple steps.
Spirit Airlines Customer Service Email
You can fill the complaint form on the company's website, or you can email your complaints and queries to the given email address, and your email will be forwarded to one of the experts of the guest relations department who will further help you with your requirements.
Guatemala: Spiritairlines@nvstouroperator.com
Quetzaltenango (Xelo): Spiritxela@nvstouroperator.com
Honduras: spirit@mayatempletours.com
El Salvador: reservas@spiritsal.com
Tegucigalpa: spirit@mayatempletours.com
Costa Rica: reservas@spiritcostarica.com
Colombia: tiquetesspirit@hotmail.com
Armenia: spirit@travelytravel.com
Cartagena: eddaconeo@gematours.com
Bogota: Edgarcuevas@gematours.com
Ecuador: spirit@marglobal.com
Peru: spiritperu@agunsa.com
Spirit Airlines Customer Support
To know more about Spirit Airlines, you can connect with them through their social media pages as well as download their mobile app and view the latest updates of Spirit Airlines. You can connect to Spirit Airline social media pages via following links
Facebook: https://m.facebook.com/SpiritAirlines/
Twitter: https://www.twitter.com/spiritairlines
Instagram: https://www.instagram.com/spiritairlines/
Tumblr: https://www.tumblr.com/spiritairlines#
Spirit Airlines Reviews
Spirit airlines are deemed to be the cheapest and most affordable air tickets an individual can get. A customer was very pleased and gave review saying- 'I had a good experience with Spirit. As I needed an inexpensive same-day fare which no other carrier offered. I made sure I read through their guidelines and understood any additional costs ahead of my flight. I opted for the "Big Front Seat" for an additional fee and it was worth it. Spirit Airlines Big Front These seats are larger, comfortable and have added six inches of legroom beyond Spirit's standard seats. I also liked that the reclined farther than the regular seats.'
FAQs
Does a Spirit Airline have a customer service number?
Yes, you can contact Spirit Airline at 801-401-2222.
Where is the Spirit Airline headquarters?
Spirit Airlines are headquartered at Miramar, Florida (U.S.)
How to contact Spirit Airlines?
You can call or email Spirit Airline to the above-given contact numbers and email addresses and for more details, you can visit the Spirit Airline contact us page.
Can I get a refund on my spirit flights?
Spirit Airlines does not offer refund fares for cancellation of flights as it helps them to keep prices low for every passenger.
What is Spirit Airlines customer service email?
Spirit airline's offices are situated at many places throughout the U.S., the Caribbean and Latin Americans who have their separate email addresses for their regional offices. You can find the email addresses of all the offices above in the email support section.
How do I talk to a live person at Spirit Airlines?
You can contact Spirit Airlines via phone at 801-401-2222 and talk with the guest relation department of spirit airline, or you can visit their offices at above-given addresses for more details and requirements.
How to cancel Spirit Airline membership?
You can cancel your Spirit Airline membership anytime by going through my account page at www.spirit.com and canceling your membership in a few steps. After canceling your membership through the website, you will also receive an email in the next 24hrs confirming your membership cancellation.
How is Spirit Airlines rated?
Spirit Airlines offers comparatively low fare carriers and is rated 2.6 out of 5 by customers.
Conclusion
Above, we have mentioned detailed customer service and support of Spirit airline. For more details, you can always visit the Spirit Airline official website. We hope that the above information was helpful. To know more about other airline's customer services you can visit our site www.uscostumercare.com.