Jetblue Customer Service | Telephone Number & Email
No one knew that travelling from California to New York would be so fun and quick that you could do it every day just for fun. Commercial airlines have come to us as a god's gift. Be it business or leisure; you can travel any time, anywhere with just a few taps and swipes on your phone.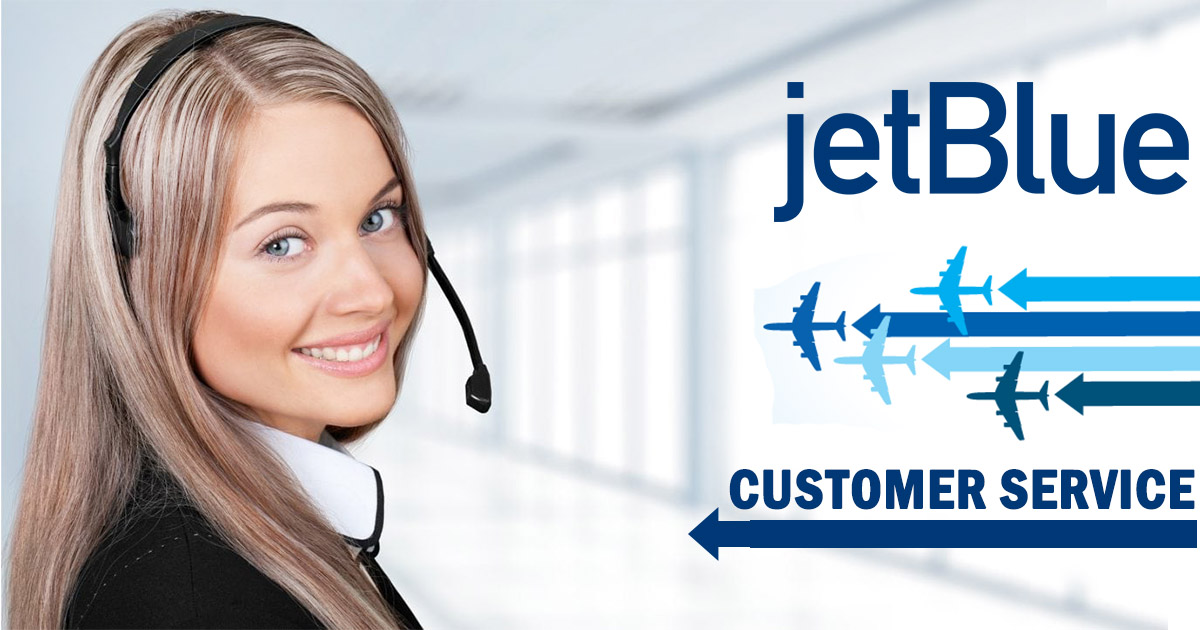 Commercial airlines have, in a way, revolutionized our official and social world. These airlines have become a great contributor to our economic development not just by making business meetings faster and more efficient but also by providing jobs to millions of people. One can say that we can't live our lives with this ease without commercial airlines in the picture.
Jetblue Airways Corporation
A reliable and cheap airways option available is Jetblue Airways. Jetblue airways corporation referred to as JetBlue is a huge low-cost airline in the United States. By the number of passengers it carries each day, it is the 6th largest in the States. JetBlue was founded in August 1998 almost 22 years ago by David Neeleman with the name NewAir. They have their headquarters in Long Island City, New York.
In the 2019 Fortune500 list, JetBlue was ranked 399 financially among the largest corporations in the United States by revenue. The airlines operate over 1000 flights daily over 102 domestic and international destinations spread across the globe. Jetblue reviews given by its passengers are impressive; so one should definitely try these airlines without any second thoughts.
Jetblue Airways has a very friendly customer service that has dedicated employees, ready to solve your queries at all times. They can be contacted in a number of ways, all of which will be shown in this article.
Jetblue Contact Numbers
Jetblue customer care services are available 24 hours a day. So you can call them at any time of the day to solve your queries. You can contact them using a phone call, an email or through a letter. The main JetBlue phone number that frequently used is mentioned below.
Jetblue Customer Support
All countries (toll free Jetblue number)
1-801-449-2525
Website
www.jetblue.com
Jetblue Customer Service Hours
Jetblue customer services, as already mentioned, are amazing. This Jetblue airways corporation offers customer services for 24 hours, seven days a week. They can be called at any time of the day and your queries will be solved.
JetBlue Corporate Office Address
JetBlue Airways can be reached through physical letters too. If you are having any trouble contacting the JetBlue customer service number, then you can post a letter defining your concern at their Corporate Office.
Their Corporate Office address is:
27-01 Queens Plaza N,
Brewster Building Long Island City,
NY 11101, United States.
JetBlue Official Site
JetBlue manages an interactive website where its customers can check and avail all the services provided by the company. They also have a contact Us page where you can find all the phone numbers.
The official Jetblue website: www.jetblue.com
JetBlue Email Support
Jetblue customer service Email: JetBlue manages an email system on their website using which you can email your queries to them from their website itself. You just have to submit a simple form defining your query, phone number and email. It asks for some other minor details and then you are done. This service helps you from the time-consuming process of emailing through a different website; www.jetblue.com/email.
JetBlue Social Media
JetBlue is very active on multiple social media platforms. They often put offers and advertisement banners on these websites to increase their number of customers.
You can find and follow JetBlue on the following social media websites:
JetBlue Reviews
JetBlue Airways provides its customers with A class services. Customers have a very high opinion about their services but also a few negative reviews and complaints have been lodged. One customer positively reviewed- 'I am a constant JetBlue user and they have become my favourite airlines.
Their flights are never late and they offer amenities including snacks even on a 3hr short flight. Their seats are very comfortable with good leg space and wide cabin space. Totally happy!!'. Other customer was unhappy and said- 'When I called JetBlue regarding a refund, they refused to help me. It is totally barbaric seeing how the present situation is across the globe'.
FAQs
How to contact JetBlue?
JetBlue can be contacted through call (1 801-449-2525) and other ways like through email support, https://www.jetblue.com/email or mail their headquarters.
Where is JetBlue airlines customer service call centre located?
There is no single Jetblue airlines customer service call centre. It has several call centres at a number of different locations. Their headquarters are located at Brewster Building Long Island City, New York, United States.
What is JetBlue's phone number?
JetBlue phone number is 1 801-449-2525
How do I contact JetBlue by email?
JetBlue Airways has an email management system on its website in which you can email them your query from their website itself, www.jetblue.com/email.
Where is JetBlue headquarters?
JetBlue Airways has their headquarters in Brewster Building Long Island City, New York, United States.
Is JetBlue customer service 24 hours?
Yes, JetBlue customer services run 24 hrs a day.
Can you text JetBlue?
No, the texting option is not available on JetBlue. You can, however, use their email support in their official website, www.jetblue.com/email.
How do I talk to a JetBlue representative?
You can call Jetblue telephone number, 1 801-449-2525 to talk to their customer representative.
Conclusion
JetBlue Airline services are outstanding. One can benefit a lot from its 24*7 services. With their numerous call centres, JetBlue Airlines assure you the best of the services, with no holding line.
Jetblue customer service phone number provided above is taken from the JetBlue official website. JetBlue services are cheap and reliable, so you can trust, whenever you want to meet your relatives or travel for your formal endeavours. So, Travel in style; Travel with JetBlue Airline!