ComEd Phone Number | Customer Support Hours, Corporate Address
Report power outages, file property damage claim, billing issues via ComEd Customer Service Number. Individuals can use a mobile app, online contact form to raise a problem against ComEd Services. If you notice downed power lines, outages, then check ComEd Contact Numbers. Some other ways to contact the customer support team are by using mailing address, social media, contact online and email id.
ComEd Customer Service
ComEd is called as Commonwealth Edison. It is one of the largest electric utilities in Illinois, Chicago. Commonwealth Edison's transmission lines perform at voltages of 765000 volts. ComEd is the unit of Chicago based Exelon Corporation, one of the nation's largest electric & gas utility holding companies. ComEd offers electric service to more than 3.8 million customers across Northen Illinois. The company was started in 1907 in the United States.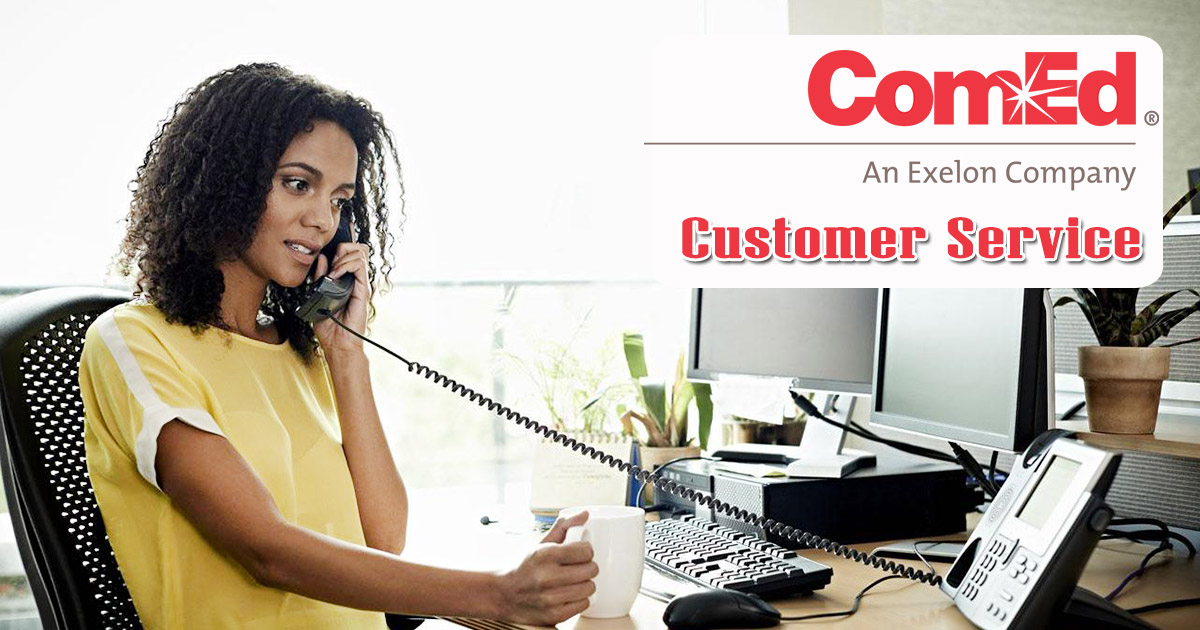 The company name is portmanteau and syllabic abbreviation of Commonwealth and Thomas Edison. ComEd has interconnections with American Electric Power on its 765 kV system. The company sub-transmission voltage is 34,500 volts. Users of ComEd Gas or Electric Utilities can check out the customer care details in the below sections.
ComEd Telephone Number
Customers who are using ComEd power/ gas utilities should know emergency contact numbers. People can report a power outage, energy theft, property damage by calling ComEd Number at 1-800-EDISON-1 (1-800-334-7661). Individuals can change their customer assistance language by contacting ComEd Customer Service Phone Numbers. For any other inquiries, issues, call to ComEd Support Toll Free Number.
ComEd Support Phone Number
| | |
| --- | --- |
| ComEd Emergency Contact Number | 1-800-EDISON-1 (1-800-334-7661) |
| ComEd Phone Number Spanish | 1-800-95-LUCES (1-800-955-8237) |
| Business ComEd Customer Support Number | 1-877-4-COMED-1 (1-877-426-6331) |
ComEd Customer Care Phone Number
ComEd Customer Care Assistance Assistance Programs: 1-888-806-CARE (1-888-806-2273)
Smart Meter Inquiries Phone Number: 1-866-368-8326
ComEd Telephone Number for Language Assistance: 1-800-EDISON-1 (1-800-334-7661)
TTY: 1-800-572-5789
Outside the City of Chicago: 1-800-892-0123 or 811
ComEd Digger Number Within the City of Chicago: 1-312-744-7000
ComEd Customer Support Hours
Emergency Services: ComEd Customers can contact the emergency lines 24/7. The emergency services are available at any point of time in a day.
Customer Service: ComEd Customer Care Assistance Representatives are available from 7 a.m. to 7 p.m., Monday through Friday.
ComEd Customer Service Mailing Address
People are suggested to write complaints on fraud & energy theft and claim on property damage and send the letter to ComEd Customer Support Corporate Office Address. Users can also send payments to the below ComEd Address.
ComEd Customer Care Center,
P.O. Box 805379,
Chicago, IL 60680-5379
Send Payments to
ComEd, P.O. BOX 6111,
Carol Stream,
IL 60197-6111
ComEd Official Website
ComEd is an Exelon Company that give electricity services to Chicago. Individuals can log in to their account on the ComEd home page. At its official site www.comed.com, people can report outages, pay bills and start, stop or move their services. Customers must visit the company official site to know the best ways to save energy, how to get smart energy.
ComEd Customer Care Email Id
ComEd Support Email Address is given here. You can provide feedback or suggestions through ComEd Contact Page: secure.comed.com/MyAccount/CustomerSupport/Pages/ContactUsForms.aspx. There is a possibility for the organization to respond to the user's problems via ComEd Customer Care Email Services.
Social Network sites of ComEd
People need to follow the social media pages of ComEd. The company is active at various social networking sites like Pinterest, Instagram, Facebook, Youtube, Twitter & others. With the help of social media, individuals can resolve issues/ problems like billing, smart meter reading, and others.
Twitter: twitter.com/ComEd
Facebook: www.facebook.com/ComEd
LinkedIn: www.linkedin.com/company/comed
Youtube: www.youtube.com/user/CommonwealthEdison
Instagram: www.instagram.com/comed/
Pinterest: www.pinterest.com/comedil/
Flicker: www.flickr.com/photos/commonwealthedison
FAQs
How Do I Contact ComEd Customer Service Representatives?
If you see downed power lines, energy theft, illegal digging or any emergency call ComEd Phone number at 1-800-EDISON-1 (1-800-334-7661). ComEd Call Center representatives are available 24 hours a day, 7 days a week.
What time does ComEd Customer Care Close?
ComEd Customer Support Hours Of Operation details are included here. ComEd Telephone Services are available from Monday to Friday, in between 7:00 am and 7:00 pm.
How do I report a power outage to ComEd?
One can report the electricity report online by using a smartphone or tablet. You can also select the telephone and call at 1-800-EDISON-1 (1-800-334-7661). Customers can quickly and easily report an outage via mobile app, text message or facebook app, online services which are available 24/7.
Final Words
We hope that the data enclosed here regarding ComEd 800 Number are useful for the individuals. People can report a power outage & damage claim by using ComEd Telephone Services. You can stay connected with www.uscustomercare.com to get the contact details of other electricity companies.