Verizon Customer Support Numbers – Connect with them for any query!
Verizon is an American company dealing in telecommunications offering wireless products and services. There are around 118.7 million Verizon subscribers. It is also the second-largest telecommunications provider in the entire United States. Verizon provides a 4G LTE network to about 98 percent of the American public.
It also offers its mobile phone services on a variety of devices and offers various applications that can be accessed by its subscribers. With such a vast customer base to cater to and a wide range of services and products that it extends to its customers, Verizon customer service bridges the gap between the company and its customers.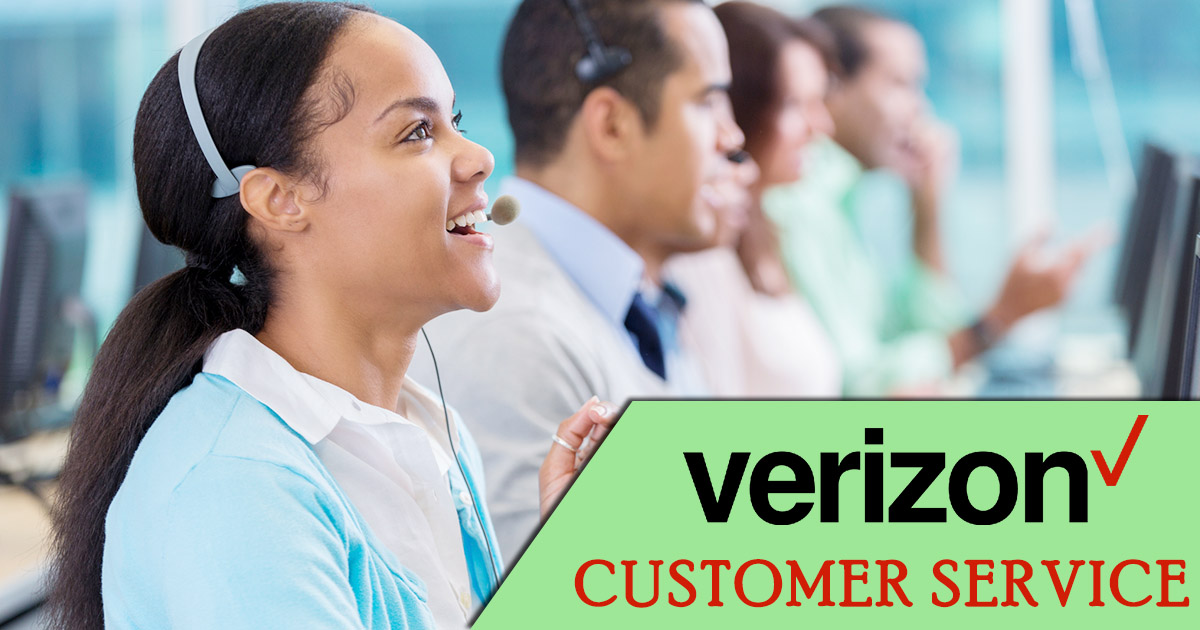 After getting any product or enabling any service from Verizon, customers don't have to bother about visiting their stores every time that they face any problem with its products or services. Verizon customer service facility comes to the rescue of those who want to get in touch with the company and are looking forward to getting their questions answered by experts at Verizon. These facilities, thus, enable its customers to call or send mail and seek assistance from Verizon without having to run to its store.
Verizon Customer Care
The easiest and the most preferred way to get in touch with a company and get your queries answered is to contact them on a call. Verizon has come up with a lot of options that customers can make use of to get their doubts registered with them. It provides its customer care phone number for easy access and contact. The Verizon contact numbers for In Home and Wireless are provided below.
Verizon Customer Service Phone Number
Main Verizon Phone Numbers
Customer Service

1-800-VERIZON (1-800-837-4966)

Verizon Wireless Customer Service Number

1-800.922.0204
Other Verizon Wireless Contact Numbers
Verizon Prepaid Customer Service Number: 888.294.6804
National Accessibility: 888.262.1999
Sales – Consumer: 800.225.5499
Sales – Business: 800.465.4054
Verizon Customer Service Hours
Verizon customer service number is available from 7 am to 9 pm, Monday to Friday. And from 8 am to 9 pm on Saturdays and Sundays.
Verizon Wireless Support Hours

Wireless Customer Service (1-800.922.0204)

Mon – Fri, 8 AM – 7 PM local time
Sat – Sun, 8 AM – 5 PM local time
Verizon Wireless Prepaid Customer Service
Mon – Fri, 8 AM – 5 PM local time


Sat – Sun, 8 AM – 5 PM local time

National Accessibility

Mon – Fri, 8:00 AM – 5:00 PM ET
Sat & Sun Closed

Sales – Consumer

Mon – Fri, 8 AM – 10 PM ET
Sat, 8 AM – 10 PM ET


Sun, 9 AM – 10 PM ET

Sales – Business

Mon – Fri, 8 AM – 9 PM ET
Verizon Headquarters & Mailing Address
The Verizon Headquarters is located in,
140 West Street
Manhattan,
New York City
PO Box. 15043
Mailing Addresses
Customer Service
Verizon Wireless Correspondence
P.O. Box 408
Newark, NJ 07101-0408
Payment Address
PO Box 408
Newark, NJ 07101-0408
Website Issues
Verizon Wireless Internet Operations
One Verizon Way
Basking Ridge, NJ 07920
Bankruptcy
Verizon Wireless Bankruptcy Administration
500 Technology Drive
Suite 550
Weldon Spring, MO 63304
Verizon Stores Near Me
To locate the Verizon Wireless stores near you, you can make use of this Store Locator. Enter your city and state with street address or Zip and search. It displays all the stores available in your location. You can also locate Verizon Wireless customer support near you using Google Maps.
Verizon Email Support
Verizon does not have a customer email support address, but it provides a whole lot of options to seek support. For different mediums to contact Verizon visit their official site – www.verizon.com and www.verizonwireless.com. Or you can call the Verizon support number and take the assistance.
Verizon Live Chat
For any concerns that are to be solved right away, you can live chat with their customer services at www.verizon.com/support/residential/contact-us/contactuslanding.html. For fast response and to solve your issues quickly, better call Verizon support phone number, 1-800-VERIZON (1-800-837-4966).
Verizon Wireless chat page: https://www.verizonwireless.com/support/contact-us/. You can find the chat button on this page at bottom right side. If there is no fast response, you can call Verizon help number, 1-800.922.0204
Verizon Website Official
www.verizon.com/ – is the official site of Verizon technology and www.verizonwireless.com is the official website of Verizon Wireless technology. The website developed by Verizon technicians is customer friendly and customers upon visiting it will find several sections dedicated to helping them understand the products and services offered by Verizon.
Verizon Social Media Lines
Social media is being used extensively by companies to promote their products and services to their target audience. Verizon is not behind in using social media tools to its benefit. Providing the facility to contact it through social media also eases how customers can gain Verizon customer support. If your problem is not solved through social media, you can call Verizon customer service as it is the fast & effective way.
Verizon Review
Verizon, like any other company, provides its customers with innumerable options to connect with its representatives and get their problems acknowledged. Customers may make use of its various phone numbers provided or send them messages on Facebook. Verizon also has a direct chat option on its official site – https://www.verizonwireless.com/support/contact-us/. Verizon's live chat option works from 8 am to 11 pm from Mondays to Fridays, and from 11 am to 11 pm on Saturdays and Sundays.
Customers may also send mails to them for various issues using the mail address provided. Customers have often listed that the customer support provided by Verizon is speedy and accurate. Verizon's customer support service has been credited with the fast response time. Contacting them through the phone remains the most popular option to get quick responses to problems.
The telecommunications industry is forever expanding with newer competition being born each day. Verizon being a top company has to be careful of disappointing its customers or duping them. Verizon customer service makes sure that no customer is left disappointed and any customer-facing issues get to contact them using whatever means they want to use from the plethora of options provided by Verizon.
FAQs
Is Verizon Wireless customer service phone number 24 hours?
No, Verizon Wireless support is not available 24/7. The timings of different Verizon services are provided above. Best time to call Verizon Wireless is 9 am.
What time does Verizon customer service open?
Verizon customer service opens at around 7 am from Monday to Friday and 8 am on Saturdays and Sundays.
What time does Verizon customer service close?
The closing time of Verizon customer service depends on what facility you are using. However, commonly it shuts by 9 pm.
How to file a complaint with Verizon customer service?
To complain about customer service, you can talk to the representative by calling Verizon telephone number, 1-855-983-1425. You can also use the social media links to file complaints or write letter to the above given mailing address.
How to contact the CEO of Verizon wireless?
To contact the CEO of Verizon you can contact them through twitter or instagram. Else, write letter to the main office addressing CEO. For more details you can check their official site, www.verizon.com/about/our-company/executive-bios/hans-vestberg. 
How do I get a human at Verizon customer service?
You can contact Verizon customer service by phone (1-800-837-4966) or select the option of live chat. Else, you can visit the nearest Verizon store and meet the customer care representative.
What is the phone number for Verizon customer service?
The toll-free Verizon customer service telephone number is- 1-800-837-4966
How do I email Verizon customer service?
Verizon does not provide its users with an email facility, though there is a live chat option available at www.verizon.com/support/residential/contact-us/contactuslanding.html. 
How do I contact Verizon Wireless tech support?
To get Verizon tech support, you may choose the option of live chatting with their tech representatives or call on Verizon technical support number at 1-800.922.0204. 
How do I live chat with Verizon?
To live chat with a Verizon representative, visit the site – https://www.verizon.com/support/residential/contact-us/contactuslanding.htm
Is Verizon customer service 24 hours?
No, Verizon customer service is not available for 24 hours but is in specified times. You can check the hours of the customer service operations section for more details. 
What is the 611 number for Verizon?
The 611 number of Verizon is a direct line to the customer support and when you press send it will direct you to a representative. 
What is the Verizon billing phone number?
(800) 922-0204 is the Verizon customer service toll free number for billing.
Final Words
Headquarter in basking ridge New Jersey, Verizon was founded in the year 2000. First started as a joint venture under the name Bell Atlantic, it soon developed into Verizon Communications and Vodafone. In 2014 Verizon bought Vodafone to emerge as the sole owner of the company.
Verizon is trusted with providing the most reliable network with strong speed and data and call clarity. It is the best network provider in America and is opted by many consumers, both living in rural as well as urban areas. Its 5G network is available in select areas. The 5G offers almost 50 per cent higher speeds on 5G supporting devices.
Verizon also offers a significant section of phones to its customers. These include popular phone brands with a vast array of budget. It also provides pre-owned phones and newer ones too.