USA Today Customer Care Number | Customer Support Email
Looking forward to the subscription services, advertising details, inquiry form? Then check out the USA Today Customer Service information. One can complain about the products, editors in any of these forms through Email ID, website, address, telephone number.
USA Today Customer Service
USA Today is an American daily; the middle market newspaper started on September 15, 1982. The newspaper serves as the flagship publication of Gannet's corporate and it contains centrist audience. The printing of USA Today is at 37 sites across the US and five additional sites internationally.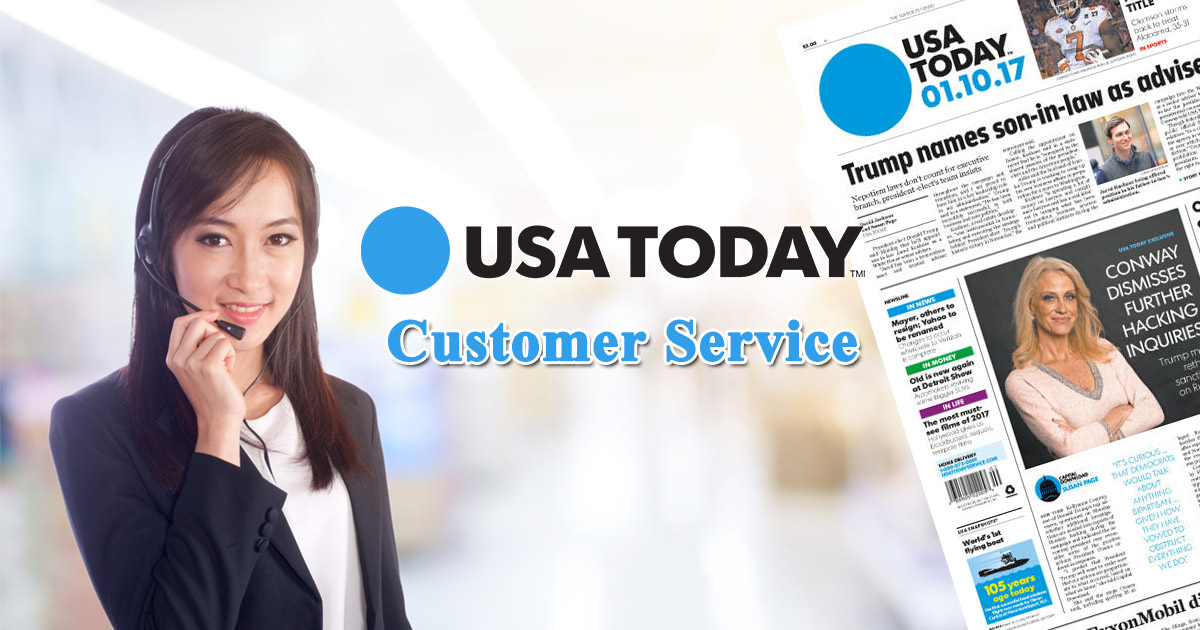 The dynamic design affected the style of regional, national, worldwide newspapers through its reports, colourized images. To get the subscription services, Press release and editorial details, you can contact USA Today Customer Care Center.
USA Today Customer Support Phone Number
Customer Care Contact information about USA Today Number is here. Know USA Today Customer Support Number to send your feedback, resolve bill payment, subscription issues, delivery services.
USA Today Contact Information
| | |
| --- | --- |
| Customer Service | 1-800-872-0001 |
| Corrections | 1-800-872-7073 |
USA Today Staff Contact Numbers
Main switchboard: 703-854-6000
Accuracy Issues: 1-800-872-7073
Delivery Customer Service: 1-800-USA-0001
Subscriptions & billing: 1-800-USA-0001
National, Regional Customer Care Number: 703-854-3400
USA Today Hours of Operation
To resolve all your issues or to inform about the events, you can reach the USA Today Customer Service within the working hours only. So for the sake of customers, USA Today Customer Care Hours are given. Through Monday-Friday, you can call between 8:00 a.m. to 7:00 p.m. ET, on remaining days there will be limited hours.
USA Today Headquarters Address
Send your queries or complaints to the office by using USA Today Corporate Address.
7950 Jones Branch Drive
McLean, VA 22108
(703) 854-3400
USA Today Official Website
You can see the details about USA Today Services at Official Page www.usatoday.com. Customers can also collect USA Today Contact information throughout the country and issues as well.
USA Today Customer Care Email
Customer Support Email ID is helpful to write your problems, complaints. You can also ask customer care representatives about the USA Today Subscription status, advertising information, delivery issues, billing related problems.
https://service.usatoday.com/giftcard/sendcard.faces
FAQs
How to Contact USA Today?
Customers can contact USA Today Customer Care via Phone Number 1-800-872-0001 to resolve doubts & services related issues.
How To Contact USA Today Reporters/ Editors/ Sports Department?
To talk with USA Today Reports/ Editors/ Sports Department Staff, you must visit www.usatoday.com/contact/staff this page.
What if I have a question about subscription?
Customers can take a subscription for USA Today newspaper by visiting service.usatoday.com/welcome.jsp page. To cancel your subscription services, make a call to 1-800-866-2211 number.
Final Words
We think that USA Today Customer service details are helpful for you to solve your issue. Feel free to leave a comment, to know more information. Visit our site frequently for the more and latest info.