SAT Customer Support Number, Corporate Address
Are you applying for the SAT Exam? The contact details of the College Board SAT Customer Service is here. The queries related to the SAT will be answered through any form of contact like Address, Email, Phone Number.
SAT Customer Service
Candidates who are willing to register for the SAT test are suggested to know about SAT Assessments. IT is a Standardized test especially used for college admissions in the US. Other names are the Scholastic Aptitude Test, Scholastic Assessment Test, SAT Reasoning Test.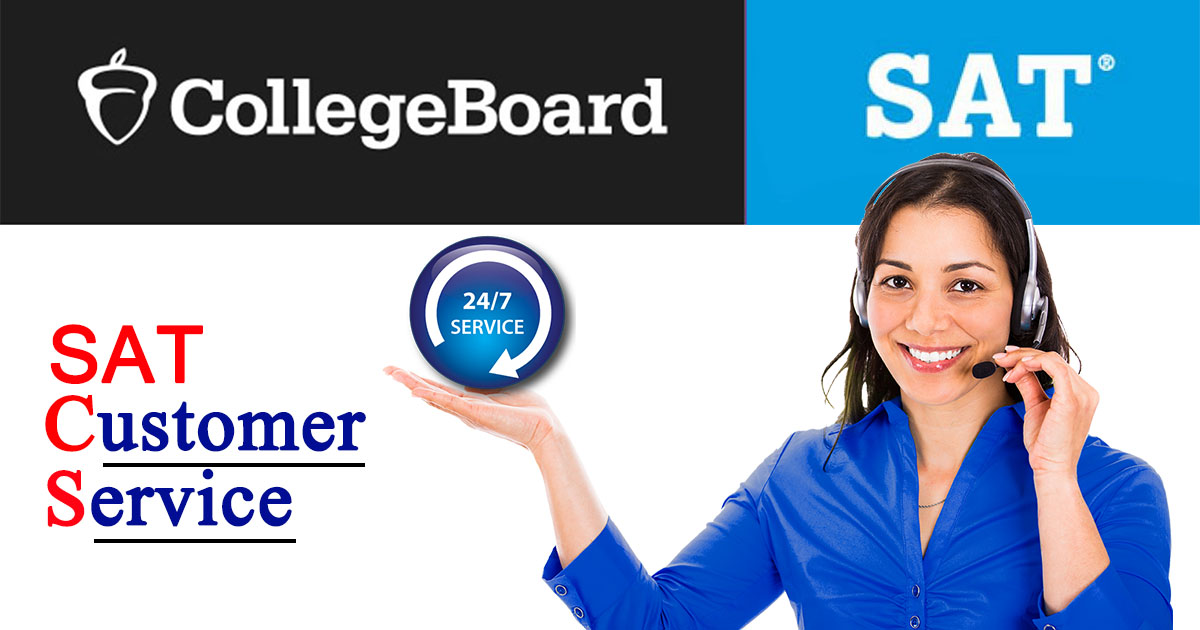 SAT entrance exam is designed to make admissions into the colleges and universities. The main purpose of the examination is to analyze the student's high school skills readiness. The test is taken by high school juniors, seniors. Any doubt about the SAT, you can ask by calling SAT Customer Service Phone Number.
SAT Customer Care Contact Number
SAT Customer Support Telephone Number for making various complaints are provided below. The contact information of SAT for the general inquiries is 866-630-9305. The international phone numbers of SAT and fax numbers are also available.
SAT Customer Service Phone Number
Customer Service / General Questions: 866-630-9305
International: 212-713-8000
Account Help: 866-315-6068
ACCUPLACER: 866-607-5223
Admitted Class Evaluation Service (ACES): 800-439-8309
Admitted Student Questionnaire (ASQ): 800-626-9795
Institutional Needs Analysis System: 866-917-9060
Membership: 212-713-8050
National Hispanic Recognition Program (NHRP): 866-545-8467
PowerFAIDS: 800-227-6734
Advanced Placement Program
Students and Parents: 888-225-5427
K–12 Educators: 877-274-6474
College Board Store
General: 800-323-7155
International: 212-713-8260
Fax: 212-713-8143
College-Level Examination Program (CLEP)
General: 800-257-9558
International: 212-237-1331
Fax: 610-628-3726
Net Price Calculator
Students: 866-917-9029
International: 212-299-0096
Financial Aid Administrators: 866-917-9029
PowerFAIDS
800-227-6734
Fax: 571-485-3099
Pre-AP: (877) 262-7320
PSAT-Related Assessments (PSAT/NMSQT, PSAT 10, and PSAT 8/9)
Students and Parents: 866-433-7728
International: 212-713-8105
Fax: 610-290-8979
K-12 Professionals
888-477-7728
International: 212-237-1335
Fax: 610-290-8979
SAT
Students and Parents: 866-756-7346
International: 212-713-7789
K–12 Professionals: 888-SAT-HELP
International: 212-520-8600
Test Error or Ambiguity
Fax: 917-591-2327
Services for Students with Disabilities (SSD)
844-255-7728
International: 212-713-8333
Fax: 866-360-0114
SpringBoard
877-999-7723
Fax: 646-607-2881
Student Search Service (Student Search)
866-825-8051
Fax: 703-787-6796
Main Offices
The College Board National Office: 212-713-8000
The College Board Washington D.C. Office: 202-741-4700
The College Board Reston, Virginia Office: 571-485-3000
Regional Offices
The Middle States Regional Office: 866-392-3019
Fax: 610-227-2580
Midwestern Regional Office: 866-392-4086
Fax: 847-653-4528
New England Regional Office: 866-392-4089
Southern Regional Office: 866-392-4088
Fax: 770-225-4062
Southwestern Regional Office: 866-392-3017
Fax: 512-721-1841
Fax: 213-416-2133
Oficina de Puerto Rico y América Latina: 787-772-1200
Fax: 787-759-8629
State Services Office
South Florida Office: 866-392-4088
Fax: 954-874-4341
SAT Customer Care Hours of Operation
College Board SAT Customer Care working hours data is here. If you want to file a complaint or do inquiry then call College Board Customer Service in between these timings.
The phones are available from 8 am to 8 pm from Monday to Friday.
During summer, the timings are changed to 8:30 am to 8:00 pm.
College Board SAT Address
Customers can send any questions, doubts/ complaints to the office with the help of the SAT College Board Corporate Officer Address.
250 Vesey Street,
New York City,
New York, The United States.
Email: At the official site of College board, we haven't found any email id. You can check this page collegereadiness.collegeboard.org to get the other ways to contact the SAT.
SAT Official Site
Know SAT Fee details, score, Test dates and free preparation tricks from SAT Official web site i.e, www.collegeboard.org. You can also get the complete contact details for all College board exams.
FAQ's
1. How to Contact SAT to Get Help With Registering For the Test?
Students or parents can call to 866-756-7346 (or) check sat@info.collegeboard.org. page to get the help in registrations.
2. When is SAT Customer Service Open?
SAT Customer Support opens from 8:00 am to 8:00 pm on all the weak days.
3. How to Find SAT Phone Number?
You can reach College Board Customer Support using the above numbers. Based on the type of admission, you can call those numbers. More ways for contacting are social media, address.
Final Words
Hope the above enlisted SAT Customer Care Telephone Numbers, Email details are helpful for you. For more data feel free to leave a comment.